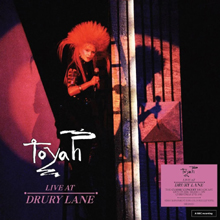 Toyah: Live At Drury Lane. Album Review
Liverpool Sound and Vision 8.5/10
In one of the great mysteries of life, the fans of one of Birmingham's finest musical ambassadors, the scintillating and unique Toyah Willcox, have always been left wondering why one of the most memorable performances of her early career was never given the aural treatment it deserved. Why it seemed to appear on every other format except the one it mattered on, the vinyl love it required to truly capture an icon at the height of her powers and majestic best.
Toyah: Live At Drury Lane has become an almost mythic like tale, one of a queen riding into battle to take on the scourge of beige mediocrity, the uniform of men in suits and the screaming banshees of dull complexity. That tale of mythic, even legendary proportions has been mostly lost, the format used at the time that framed the evening as lost as the mists that have enveloped our lives as our bodies have been eroded by tide and the fears of those who wish us to be servient to the commonplace.
• Continue reading Liverpool Sound and Vision.