Live At The Rainbow: Review by Mr Kinski's Music Shack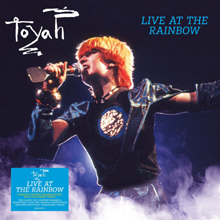 Cherry Red are releasing Toyah's February 1981 concert recorded at London's Rainbow Theatre as a CD/DVD and a coloured double vinyl LP on 25 November 2022.
Toyah – Live At The Rainbow is released for the first time on CD with seven additional songs, all previously unreleased and restored exclusively for this release.
Previously only available on VHS, the 53-min concert film has been remastered from the original Rolling Stones multitrack reels for the DVD release with improvements to both picture and sound.
The newly remixed and remastered audio has been integrated to the concert for an enhanced viewing experience. All audio remastering was approved by Joel Bogen.
Three of the seven unheard songs appear exclusively on the CD as mono-only (originally mixed by Nick Tauber) bonus tracks, where no existing multi-tracks were available to present new stereo remixes. These three tracks do not appear on the 16-song double vinyl LP edition. Toyah provides a brand-new introduction in the 24-page booklet which contains iconic live photography by Barry Plummer and new notes by Craig Astley, Toyah's official archivist.
• Continue reading at Mr Kinski's Music Shack. Pre-order Toyah Live At The Rainbow, and other recent Toyah reissues, at Cherry Red.