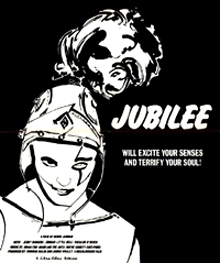 Iconic movie Jubilee is showing as part of Queer Time, Queer Space at Indiana University Cinema next month.
QUEER TIME, QUEER SPACE: JUBILEE + NEW QUEER SHORTS
Fri, Feb 24, 7 pm; $5
Derek Jarman | 1978 | United Kingdom | Not rated | DCP
Queen Elizabeth I travels 400 years into the future to witness a dystopian London overrun by a vicious gang of punk guerrilla girls led by the new Monarch of Punk. Preceded by three shorts from up-and-coming queer filmmakers.
About Queer Time, Queer Space: Jubilee + New Queer Shorts
Queen Elizabeth I asks her court alchemist to show her England in the future and she's transported 400 years to a postapocalyptic wasteland of roving girl gangs, an all-powerful media mogul, fascistic police, scattered filth, and twisted sex. Legendary British filmmaker Derek Jarman channels political dissent and creative daring into a revolutionary blend of history, fantasy, cinematic experimentation, satire, anger, fashion, and philosophy. Starring cultural icons Jordan, Toyah Willcox, Little Nell, Jayne County, Adam Ant, and Brian Eno. 100% on Rotten Tomatoes! [106 mins; drama, fantasy; English]
"Ahead of its time and often frighteningly accurate in its predictions, [Jubilee] is a fascinating historical document and a gorgeous work of film art." — The Criterion Collection
"Jarman's sophomore film is a Molotov cocktail of celluloid—a film that practically dares you to watch it." — Film Threat
"One of the most original, bold, and exciting features to have come out of Britain in the 1970s." — Variety
• Continue reading for further details and ticket link at Indiana University's website.