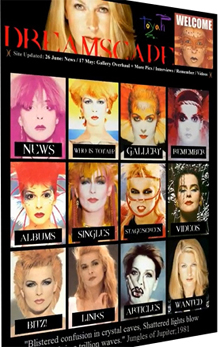 All of our 2020 news, so far, has just been added to the News Archive  >> The archive dates back to the start of Dreamscape, which was created during 1999, as the old millennium was coming to an end, and launched in March 2000 at the dawn of the new one!
We are fast approaching 21 years online and during that time the website has been a constant source of Toyah news, releases, interviews, press, appearances, television, radio, films and much more…
Covering numerous eras from those years: Velvet Lined Shell, In The Court Of The Crimson Queen, Toyah & The Humans, From Sheep Farming To Anthem Tour 2011, Calamity Jane, Toyah Solo, I'm A Celebrity and many more.
Our News Archive also has many posts from the classic years of Toyah's career (1976 – 1999). There's a lot more news to come… 2020 has brought many great Toyah releases and next year it's set to continue with the Safari back catalogue being reissued in deluxe formats, as well as many live dates.
• Take a trip to the Toyah past! Browse 21 years and thousands of news posts by clicking here!