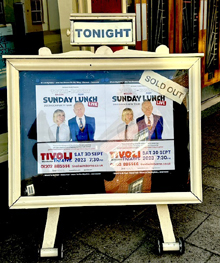 A comprehensive review of the opening – sold out – date of Toyah & Robert's Sunday Lunch Tour. Please note, this review includes spoilers, such as the full set-list etc.
Wimborne, Tivoli Theatre
Saturday 30 September 2023
This is where it started, during lockdown. It's had 120 million views. Robert Fripp and Toyah Willcox broadcasting totally unexpected duo renditions from home. It went viral. People looked forward to it.
The Tivoli sold out in hours rather than days. Wimborne, Dorset is Robert Fripp's home town. As explained tonight he first went to the Tivoli when it was a cinema with his sister (who was running the lobby sales stand tonight) when he was five. He proposed to Toyah thirty-seven years ago just along the road. He is the local hero. They could easily have sold out Bournemouth Pavilion judging by the way tickets flew off the shelf. I expect they could have sold out the cavernous BIC, but no, it's a home town gig in the Tivoli. While it's a small venue, I have seen such as Robert Plant, Judy Collins, Albert Lee and The Manfreds there.
For many of us in this audience Robert Fripp goes back to The League of Gentlemen and Giles, Giles and Fripp as well as King Crimson. As I increasingly realised working on the record labels on my Around & Around site, we were privileged to live in 60s Bournemouth. (The 'Greater' Bournemouth area includes Poole, Christchurch and Wimborne). Robert Fripp, John Wetton, Greg Lake, Michael Giles, Richard Palmer-James, Gordon Haskell (just to name King Crimson connections first), Lee Kerslake (The Gods, Uriah Heep), Zoot Money, Andy Somers (Police), Tim Mycroft (Sounds Nice), Al Stewart, John Rostill (The Shadows), Bob Jenkins (Room, Be Sharp), Pete Ballam (Bram Stoker), Dave Anthony's Moods, Trendsetters Ltd, The Dowlands. Check out the Bournemouth Beat Boom website for the most detailed information on all of these. As a booming tourist town, Bournemouth simply had far more venues than most places so spawned bands who could actually find plenty of gigs.
• Continue reading at Peter Viney's Blog. Toyah & Robert's Sunday Lunch Tour is on the road now – Browse venues at toyahwillcox.com. (Photo © Peter Viney)