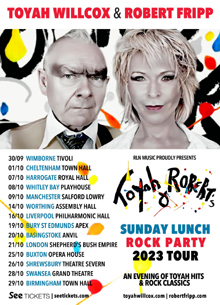 Win: Toyah Willcox and Robert Fripp coming to Basingstoke
Toyah Willcox and Robert Fripp are going on tour and will be in Basingstoke in October – and you can win free tickets with the Gazette.
The married pair are bursting out of the kitchen and going on tour with Toyah's full 'Posh Pop' band.
Enjoy an evening of Sunday Lunch reminiscing and full rock music, familiar from their hit YouTube series, with Robert on guitar.
With the exciting artistic twists that both Robert and Toyah are renowned for, they'll perform Toyah's hits such as It's A Mystery and I Want To Be Free, plus many much-loved songs, including My Generation, Heroes, Teenage Kicks, Rebel Yell, Slave To The Rhythm, Smoke On The Water, Are You Gonna Go My Way, Paranoid, and more.
• Continue reading, and enter the competition to win gig tickets, at the Basingstoke Gazette.