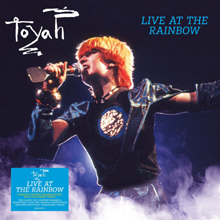 Following Toyah! Toyah! Toyah! (May 2022, #72) and Anthem (September 2022, #33), Toyah secures a third Top 100 album in 2022 on The Official Charts today, with Live At The Rainbow entering at #100. Not only that, though, Live At The Rainbow places very well in various other Official Chart album countdowns today.
Album Chart #100
Independent Chart #7
Sales Chart #24
Physical Chart #22
Scottish Chart #34
Live At The Rainbow also charted at #36 in the Official Chart Album Update (aka Midweeks) earlier this week.
• Chart Stats: Toyah has now had seven albums on the Official Charts in the past four consecutive years: In The Court Of The Crimson Queen (2019) #74, Sheep Farming In Barnet (2020) #99, The Blue Meaning (2021) #59, Posh Pop (2021) #22, Toyah! Toyah! Toyah! (2022) #72, Anthem (2022) #33, Live At The Rainbow (2022) #100.
NB. As well as those album stats, the two box sets, Toyah Solo (March 2020), and The Humans: Noise In Your Head (July 2020), both entered a number of the Official Charts, including Sales and Independent.
• More Toyah Chart News: Browse Dreamscape's Official Charts archive…  Download/Stream or buy the vinyl or CD/DVD of Live At The Rainbow.