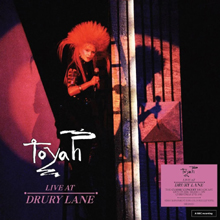 Toyah To Bring Out The Audio Of Her Drury Lane Concert
Even though, in the eyes of the uninitiated, Toyah's latter-day endeavors may seem to suggest she's content to be cavorting in the kitchen with her spouse, the singer's histrionic performances have always been much more than such domestic scenes.
It's rather surprising, then, that, for all the years she spent on-stage, there's not a lot of records which captured the chanteuse live, but there are concert videos to allow Ms. Willcox to remedy this situation. Last year saw the reissue of her 1981's "At The Rainbow" album on CD and DVD, and now it's time for 1982's "Good Morning Universe" to follow suit.
Slated to be out as "Live At Drury Lane" on May 12th in CD/DVD and 2LP formats, the remastered video version of this classic Christmas show, where the artist's band included the great Simon Phillips on drums and the recently departed Phil Spalding on bass, reinstates two pieces that were cut from the original VHS release, while audio variant – issued for the first time ever – is augmented with three numbers Toyah delivered to Milan audience earlier on the same tour. Here's a chance to experience her magic in all its glory.
• Continue reading at Let It Rock. Pre-order Live At Drury Lane, on CD/DVD and double vinyl, at Cherry Red.