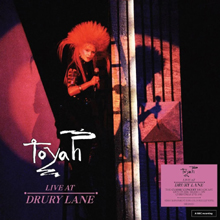 Toyah / Live at Drury Lane
First time on CD, LP and DVD
Cherry Red continue their Safari-era Toyah reissues with Live at Drury Lane, a concert performance from December 1981.
This was broadcast live on the BBC for The Old Grey Whistle Test on Christmas Eve in 1981 and was 'simulcast' (as they used to call it) in stereo on BBC Radio One. Live at Drury Lane was never issued on vinyl, CD or cassette but was released as an edited VHS (called 'Good Morning Universe') in 1982.
This new reissue is available as a CD+DVD combo pack or as a 2LP set on pink vinyl. The CD contains all 13 songs performed on the night plus three bonus audio tracks recorded live in Milan from earlier on that same Winter Tour. The DVD reinstates 'War Boys' and 'Victims of The Riddle' which were missing from the VHS, but performed on the night.
• Continue reading at Super Deluxe Edition. Pre-Order Live At Drury Lane on CD+DVD or 2LP at Cherry Red.