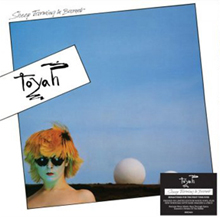 1980 debut reissued as 2CD+DVD set & coloured vinyl
Toyah's debut album Sheep Farming In Barnet has been remastered and expanded and will be reissued in December. Cherry Red bought the Safari Records catalogue earlier this year and Sheep Farming In Barnet represents the start of a planned reissue programme of Toyah's entire output on that label, including 1981's hit-packed Anthem.
Originally a six-track EP issued in August 1979, Sheep Farming In Barnet was expanded to full album status the following year with the addition of five further tracks, including both sides 'Victims Of The Riddle', Toyah's first single (released in 1979).
The reissue is fairly straightforward, with two formats on offer: 2CD+DVD and an LP pressed on white vinyl. The former offers the newly remastered album, plus 30 bonus tracks made up of non-album singles, rarities and demos (20 previously unreleased).
• Continue reading at Super Deluxe Edition.