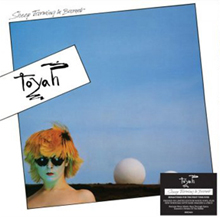 A comprehensive review of Sheep Farming In Barnet, by Spectrum Culture. The album was released on 140g black vinyl on 16th June.
Toyah: Sheep Farming in Barnet
Toyah Willcox is much beloved in the UK as a broadcaster/national treasure, a standing which has only been reinforced by her YouTube videos with husband Robert Fripp. Back in the early '80s, she and her self-titled band were genuine pop stars too, scoring three Top 10 singles, plus another 10 or so that charted. And yet, though she's been famous for the past 40 years and has never gone away, her music isn't much considered compared to many of her post-punk/new wave/new romantic peers. By the time the Toyah's debut, Sheep Farming in Barnet – initially an EP, and then extended into an album for its European release – came out in 1979, Willcox was already a familiar face and well-known personality on the punk scene and had appeared in a high-profile acting role in Derek Jarman's 1978 film Jubilee, so there was an element of skepticism in the critical response to the album. But like Jubilee itself, Sheep Farming… is definitively an artifact of its time, and as interesting as it is typical.
The sound of Toyah in 1979 was definitely new wave, but it was a colorful, flamboyant and theatrical new wave, rather than the chilly, bleak and wiry post-punk of peers like the Cure or Wire. At times – also typical of the period – there's a noticeable Roxy Music and Bowie influence and the band (Toyah, plus guitarist Joel Bogen, Peter Bush and Keith Hale on synths, bass player Mark Henry and drummer Steve Bray – were accomplished enough musicians to stray far outside of the standard three-chord punk template for the majority of the album's tracks.
• Continue reading at Spectrum Culture. Browse Dreamscape's Sheep farming In Barnet news archive.