A new, Sheep Farming In Barnet/Early Years, interview with Toyah, from Cherry Red's My Favourite Flavour magazine. A classic SFIB era photo of Toyah is also included on the cover!
According to the sleevenotes of the lavish re-issue of Toyah's debut album 'Sheep Farming In Barnet' her progress to punk icon, then pop star, really began back in 1975…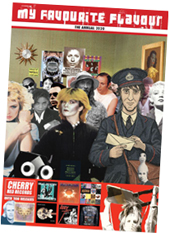 "Back then I just wanted to get out of school, get out of Birmingham. I definitely wanted to act and sing, but there was no way I was equipped for that. I think I was lucky to have been born at the right time and been around for the punk movement, that allowed every shape, size, sound and form into the fold. If you had something to express or to say back then, punk accepted it. That was the saving grace for me.
"I'd left home and got a job at the National Theatre in London, school hadn't really prepared me for life, I had to land on my feet and learn to adapt to the outside world and somehow mould myself into what I wanted to be.
"At the National, an actor called Ian Charleson introduced me to Derek Jarman who was about to start work on his film Jubilee and around the same time I got into a punk band and started writing with Joel Bogen. We started playing the pub circuit and I was embraced by that whole community, they were amazing times."
• Continue reading here. (Thanks to Sharon Dickson for the scans)