Punktuation: Toyah Willcox: "Slow Down? Me? Never!"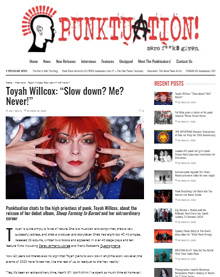 A great new interview with Toyah, just published by Punktuation. Also includes a shorter interview with Steve James discussing the recording of Sheep Farming in Barnet.
Punktuation chats to the high priestess of punk, Toyah Willcox, about the reissue of her debut album, Sheep Farming In Barnet and her extraordinary career
Toyah is quite simply a force of nature. She is a musician and songwriter, she's a very successful actress, and she's a producer and storyteller. She's had eight top 40 hit singles, released 23 albums, written two books and appeared in over 40 stage plays and ten feature films including Derek Jarman's Jubilee and Franc Roddam's Quadrophenia.
Now 62 years old there's also no sign that Toyah plans to slow down anytime soon. However, the events of 2020 have forced her, like the rest of us, to readjust to the 'new reality'.
"Yes, it's been an extraordinary time, hasn't it? I don't think I've spent so much time at home as I have this year, " Toyah says over the phone from her English countryside home that she shares with her husband of over 30 years, guitarist Robert Fripp.
"It's taken a bit of time to get used to. Here we are at the end of October and Robert and I are just finding our stride. We both believe if we can get through this we can get through anything. The reality for us is that we will have to be in quarantine for a while longer as Robert is now 74 – we have to be careful," Toyah confides.
• Continue reading at Punktuation.