PhilMarriott.Net: Toyah Kickstarts Safari Back Catalogue Remasters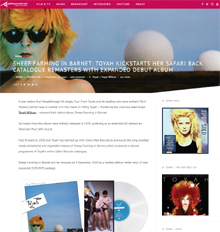 Sheep Farming In Barnet: Toyah Kickstarts Her Safari Back Catalogue Remasters With Expanded Debut Album
A year before their breakthrough hit single, Four From Toyah, and its leading new wave anthem 'It's A Mystery' (which rose to number 4 in the charts in 1981), Toyah – fronted by the vivacious lead singer Toyah Willcox – released their debut album, Sheep Farming In Barnet.
Six tracks from the album were initially released in 1979, surfacing as an extended EP, dubbed an 'Alternate Play' (AP) record.
Fast forward to 2020 and Toyah has teamed up with Cherry Red Records to announce the long-awaited newly remastered and expanded release of Sheep Farming In Barnet, which kickstarts a reissue programme of Toyah's entire Safari Records catalogue.
Sheep Farming In Barnet will be reissued on 4 December 2020 as a limited edition white vinyl LP and expanded 2CD+DVD package. Limited quantities of both formats come with a different design postcard signed by Toyah.
• Continue reading at philmarriott.net.