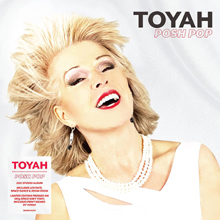 A very limited number of the Limited Edition space grey vinyl release of Posh Pop, with a signed Toyah print, are available at Amazon UK.
Posh Pop, possibly Toyah's most eagerly anticipated studio album since Minx, is released on Friday. Toyah considers this a "career best" album.
Posh Pop is a strong collection of infectious and affirmative pop songs that are as joyous as they are reflective, from the cosmic groove of Space Dance, to the sun-kissed anthem of unity Summer Of Love. The album is crafted with evocative storytelling and musicianship from Toyah, Simon Darlow (guitars, keyboards, cello), Bobby Willcox (guitar) and Jeremy Stacey (drums). Posh Pop opens with the energy-burst of Levitate and leads the listener on a journey that climaxes in the soaring, intergalactic-tinged Take Me Home.
• See/Buy the Limited Edition Posh Pop space grey vinyl with signed print at Amazon UK.