Super Deluxe Edition: Crimson Queen Rhythm Deluxe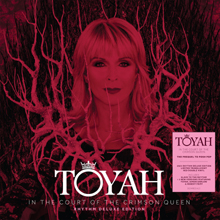 Toyah releases special edition of In The Court of the Crimson Queen
Toyah Willcox has recorded a cover of Grace Jones' 1985 single 'Slave to the Rhythm' and added it to a new special 'Rhythm Deluxe' edition of her In The Court of the Crimson Queen album. 'Slave to the Rhythm' was written by Trevor Horn, Bruce Woolley, Simon Darlow and Stephen Lipson and to those unaware, Darlow has a very long writing/producing association with Toyah, so there's some logic to the choose of recording, a version of which was first previewed on 'Toyah and Robert's Sunday Lunch' back in July.
It seems curious to release yet another special edition of this album. It first came out in 2008, was reissued in 2013 and then remixed/reissued/expanded in 2019 (when SDE spoke to both Toyah and Simon), so this will be the fourth version! Toyah describes this new version as a "prequel" to 2021's long-player Posh Pop and calls it the "definitive" version of the record. As well as 'Slave to the Rhythm' it also features three brand new remakes of the songs 'Sensational', 'Heal Ourselves' and 'Latex Messiah' featuring the 'Posh Pop Three' of Toyah, Simon Darlow and Robert Fripp.
• Continue reading at Super Deluxe Edition.