Super Deluxe Edition: Toyah / The Changeling Reissue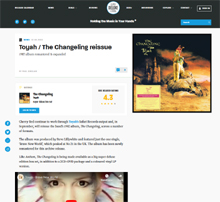 1982 album remastered and expanded
Cherry Red continue to work through Toyah's Safari Records output and, in September, will reissue the band's 1982 album, The Changeling, across a number of formats.
The album was produced by Steve Lillywhite and featured just the one single, 'Brave New World', which peaked at No 21 in the UK. The album has been newly remastered for this archive release.
Like Anthem, The Changeling is being made available as a big super deluxe edition box set, in addition to a 2CD+DVD package and a coloured vinyl LP version.
The 2CD+DVD version probably offers the best bang for your buck, with a whopping 31 bonus tracks including work-in-progress mixes, instrumental outtakes and demos. 20 of these are previously unreleased and three are new-to-CD. The NTSC, region-free DVD offers a 2023 interview with Toyah Willcox and her track-by-track commentary along with loads of TV appearances from back in the day.
• Continue reading at Super Deluxe Edition.