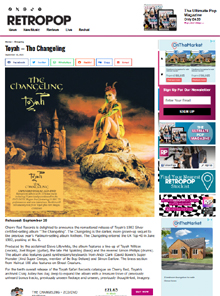 Released: September 29
Cherry Red Records is delighted to announce the remastered release of Toyah's 1982 Silver certified-selling album "The Changeling". The Changeling is the darker, more grown-up sequel to the previous year's Platinum-selling album Anthem. The Changeling entered the UK Top 40 in June 1982, peaking at No. 6.
Produced by the acclaimed Steve Lillywhite, the album features a line-up of Toyah Willcox (vocals), Joel Bogen (guitar), the late Phil Spalding (bass) and the revered Simon Phillips (drums). The album also features guest synthesizers/keyboards from Andy Clark (David Bowie's Super Monster (And Super Creeps, member of Be Bop Deluxe) and Simon Darlow. The brass section from Haircut 100 also features on Street Creature.
For the tenth overall release of the Toyah Safari Records catalogue on Cherry Red, Toyah's archivist Craig Astley has dug deep to expand the album with a treasure trove of previously unheard bonus tracks, previously unseen footage and unseen, previously thought-lost, imagery.
• Continue reading at Retropop.