Super Deluxe Edition: Toyah / Live At The Rainbow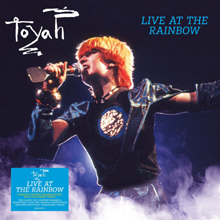 Toyah / Live at the Rainbow
First time on DVD and CD/LP
Toyah Live at the Rainbow was issued on VHS back in 1981 (and later on laserdisc) but now gets the full reissue treatment with remixed and remastered audio on vinyl and CD as well as a DVD with restored visuals.
The concert was in February 1981 at London's iconic Rainbow Theatre and includes a performance of 'It's A Mystery'. Such was that single's success (it reached number four as part of the 'Four From Toyah' EP) it prompted a gig upgrade from the Lyceum Theatre to The Rainbow.
Live at the Rainbow was originally a 12-song video, but on CD it has been expanded with with seven additional tracks, all previously unheard and unreleased; restored exclusively for this release. These include 'Bird In Flight', 'Mummies', 'Computer' and 'Love Me'. Three of these seven songs are in mono because the original multi-track masters could not be found. The coloured blue vinyl edition doesn't include the mono tracks and is therefore a 16-song offering.
• Continue reading at Super Deluxe Edition.