Anthem Deluxe/Remastered: Review by Goldmine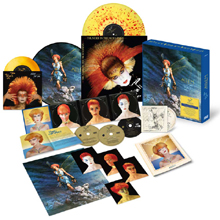 Toyah's 'Anthem' gets the super deluxe treatment, and never sounded so good!
It's a mystery why Toyah was never eternally enormous. But the thunder in the mountains has never sounded so good.
Toyah / Anthem
Cherry Red (3-CD, 1 DVD, 2-LPs, 1-45rpm Box Set)
This is it – the big one, both in commercial terms and, compared to previous releases in Toyah's reissue series, packaging, too.
Anthem was Ms Willcox's fourth album, but it was home, too, to her greatest single hits yet – and if you only need one super deluxe early '80s album, this might well be it.
Disc one here is the original album; disc three is a DVD stuffed with promos and TV appearances; discs two and four add in the outtakes, demos, remixes, backing tracks and live cuts. Including the nine bonus tracks appended to the album itself, and four more on tucked away elsewhere, there's some 40 largely unreleased performances to get your teeth into. Plus the album on picture disc, a 12-inch mini album and a four track 7-inch EP. Which can, if you wish, be slimmed down to a simple 2CD + DVD package, or reduced even further to a gold colored LP of Anthem alone. In every guise, Anthem shines brightly.
The most confident sounding of Toyah's early albums, if not the most unexpected (that remains her debut), Anthem was the sound of Toyah finally finding her direction. The songs are generally stronger than before, the band is definitely tighter, and her voice feels more controlled, without losing an iota of its original idiosyncrasy.
• Continue reading at Goldmine. Browse more reviews; of Anthem, Toyah! Toyah! Toyah!, Posh Pop, The Blue Meaning, Sheep Farming In Barnet, Posh Pop Tour, Give Them Wings, and much more, in Dreamscape's Reviews News Archive.