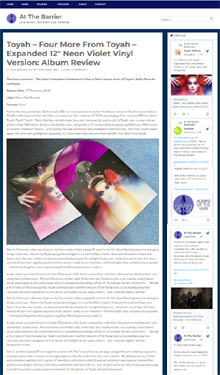 Toyah – Four More From Toyah – Expanded 12″ Neon Violet Vinyl Version: Album Review
The story continues – The latest triumphant installment in Cherry Red's reissue series of Toyah's Safari Records catalogue.
Release Date: 9th December 2022
Label: Cherry Red Records
Formats: Vinyl
And so the story continues. Back in early 2021, we were pleased to review the deluxe reissue of Toyah's second album, The Blue Meaning and then, last May, we raved over the combined CD/DVD repackaging of her seminal 1980 live album, Toyah! Toyah! Toyah! Cherry Red has certainly been busy and, since we last paid a visit to Toyah-land a super-deluxe edition of her 1981 album, Anthem, has hit the racks, along with a CD version of her breakthrough February 1981 concert at London's Rainbow Theatre – a recording that was previously only available in video formats. And now, Toyah's back again, this time with a delightful, expanded, 12" neon violet vinyl version of her third EP, Four More From Toyah.
Originally released in November 1981, the EP continued Toyah's run of chart success, thanks this time to the popularity of lead track, Good Morning Universe. The original EP climbed to No.14 in the UK singles chart; for 2022 viewers, it's been expanded into a mini-album, with the addition of four further tracks, two of which receive a commercial release for the first time.
The original EP comprised the first material to be studio-recorded since drummer Nigel Glocker's departure to join NWOBHM-ers, Saxon, and the line-up on display for the eight tracks in this package is: Toyah Willcox (vocals), Joel Bogen (guitar), Adrian Lee (keyboards), Phil Spalding (bass) and new drummer, Simon Phillips. And the band sound rock-solid! I was particularly impressed by the concrete foundation, often edging towards the funky side of things, that Phil and Simon laid down; and Toyah sings with a maturity that is only hinted at on her earlier recordings, without losing any of the sinister edge that could often make her vocal delivery such a chilling experience.
• Continue reading at At The Barrier. Buy Four More From Toyah at Cherry Red.