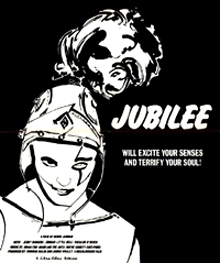 Welcome to episode nine of our Patreon exclusive podcast documentary series, An Uncanny Hour hosted by Robin Ince.
In this episode we look at the life and influence of artist, activist and director Derek Jarman and more specifically his 1978 cult film, Jubilee. Was the film a punk film, a film about punk, or neither? How does it work in tandem with Jarman's activism as a leading campaigner against Clause 28 and the homophobia of the time and how is it still relevant today?
Robin Ince talks about his affection for Jarman's work and talks to:
Musician, actor and one of the stars of Jubilee, Toyah Willcox | Creator of The Rocky Horror Picture Show and Jubilee performer, Richard O'Brien | Writer, journalist and friend of Derek Jarman, Jon Savage | Performance artist, musician, writer and creator of some of Derek Jarman's soundtracks, Cosey Fanni Tutti | Musician, writer and front man for The Membranes, John Robb | Comedian, writer and former punk, Charlie Higson
• Continue reading/Watch the podcast at The Cosmic Shambles Network.