Backseat Mafia: Live Review – Billy Idol/Killing Joke/Toyah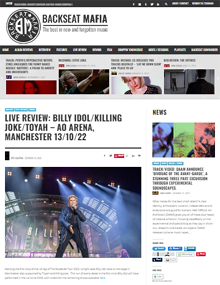 LIVE REVIEW: BILLY IDOL/KILLING JOKE/TOYAH – AO ARENA, MANCHESTER 13/10/22
Marking the first stop of the UK leg of The Roadside Tour 2022, tonight sees Billy Idol take to the stage in Manchester ably supported by Toyah and Killing Joke. This run of arena dates is the first time Billy Idol will have performed in the UK since 2018, with tickets for the remaining shows available here.
Opening the evenings proceedings was the four times Brit award nominated Toyah whose career has spanned more than 4 decades with ventures not only in music performance, but also in acting, songwriting and producing amongst many other accolades. It's a short 30 minute set for Toyah but she delivers an upbeat pop performance, dancing throughout the set. Killing Joke were a relatively late addition to the tour, stepping in when previous support Television withdrew due to illness. With their industrial post-punk rock, the band almost do a complete 180 from the bubbly Toyah, creating a much heavier darker sound accompanied by moody lighting and whilst some fans may have whiplash from the change in sound, nevertheless they were well received.
• Continue reading at Backseat Mafia. NB. A selection of great live shots of Toyah at Manchester Arena are included in this article.