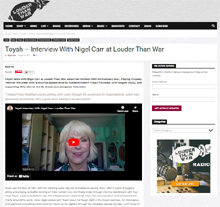 Toyah – Interview With Nigel Carr at Louder Than War
Toyah talks with Nigel Carr at Louder Than War about her Anthem 40th Anniversary tour, Playing Cropedy Festival this week with a surprise appearance by husband Robert Fripp (Thursday 11th August 2022), and supporting Billy Idol on his UK Arena tour alongside Television.
"I helped Franc Roddham out by putting John Lydon through the screentest for Quadrophenia. Lydon was absolutely astonishing. He's a great actor waiting to be discovered"
Toyah was the face of 1981 with her startling looks, big hair and stadium slaying voice. After 5 years of juggling acting and singing, and after scoring an indie number one, she finally broke through into the mainstream with Four From Toyah, which included the hits, It's a Mystery and I Want To Be Free. The ensuing album Anthem topped the charts around the world. Here, Nigel speaks with Toyah about her tough start in the music business, her impressive and award winning acting career and her return to the bigtime through the colossally popular Sunday Lunch show on YouTube, the 40th+1 anniversary of Anthem tour and supporting Billy Idol on his The Roadside Tour 2022.
• Continue reading at Louder Than War.