Reviews: Toyah & Robert's Sunday Lunch Tour – Liverpool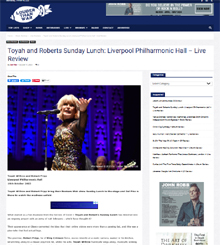 Toyah Willcox and Robert Fripp
Liverpool Philharmonic Hall
16th October 2023
Toyah Willcox and Robert Fripp bring their Bonkers Web show Sunday Lunch to the stage and Del Pike is there to watch the madness unfold.
What started as a fun diversion from the horrors of Covid – Toyah and Robert's Sunday Lunch has bloomed into an ongoing project with an army of cult followers – who'd have thought it?
Their appearance at Glasto cemented the idea that their online videos were more than a passing fad, and this was a piss-take that had actual legs.
The premise; Robert Fripp, he of King Crimson fame, stares intently at a static camera, seated in his kitchen, strumming along to a classic pop/rock hit, whilst his wife, Toyah Willcox frantically sings along, manically striking shapes and dancing feverishly around the domestic studio. And all this happens at midday every Sunday.
The results are hilarious mainly, unnerving often, but always entertaining. Toyah's outfits, which are always comically revealing, are as much a feature as the songs and performances, and often there may be a masked collaborator to add a bit of meat to the musical bones.
• Continue reading at Louder Than War. Browse a gallery of photos from this concert at Record Collector.