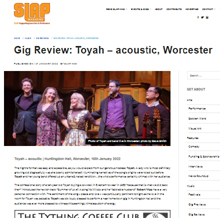 Toyah – Acoustic | Huntingdon Hall, Worcester, 15th January 2022
The night's format was easy and accessible, as you would expect from our generous hostess: Toyah. A lady who is most definitely growing old disgracefully – as she openly admits herself. Illuminating narratives of the song's origins were rolled out before Toyah and her young band offered up an urbane & naked rendition…the whole performance certainly chimed with her audience.
The confessional story of a ten-year old Toyah buying a cow-bell in Evesham to wear in 1968 "because that is what we did back then" introduced the newish track "Summer of Love". A song Ms Willcox and her "adorable husband" Robert Fripp have a very personal connection with. The sentiment of the song – peace and love – was particularly pertinent tonight as the love in the room for Toyah was palpable. Toyah was obviously pleased to perform a near home-town gig in Huntingdon Hall and the audience was even more pleased to witness this seemingly timeless atom of energy.
• Continue reading at SLAP Magazine. NB. SLAP is an acronym for Supporting Local Arts & Performers.