Live At The Rainbow: Mini-Review By Goldmine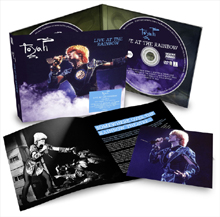 Live at the Rainbow
(Cherry Red CD/DVD)
Originally released as a VHS video in 1981, capturing Toyah at the very peak of her early '80s triumphs, fans have been calling out for a digital equivalent for years now… and finally it's here.
Spread across two discs, with the full VHS performance on DVD, and the entire concert (four songs longer, plus three further bonus tracks) on CD, Live at the Rainbow is both a captivating performance and a curious time capsule – a reminder of a time, to begin with, when Toyah was considered a weird looking lady, and a weird sounding one as well. These days, you see more dramatic costumes working in banks, and hear stranger voices reading the news.
Shove such thoughts aside, however, and the DVD, in particular, illustrates just what a dynamic performer Toyah was, with a repertoire that danced closer to the edge than many far more feted left fielders, and a stage presence that pushed her leagues ahead, again, of the competition. Indeed, enjoyable though the audio disc is, it's the DVD to which you will continually return, simply to bask in the sheer delight of the show.
• Continue reading at Goldmine. Browse our recent posts for Live At The Rainbow.