Anthem Tour 2022: Brighton Concorde 2 Review by Scene Sussex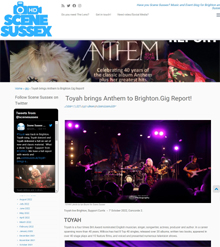 Toyah live Brighton, Support Currls
7 October 2022, Concorde 2.
Toyah brings Anthem to Brighton. Gig Report!
Toyah: Toyah Is a four times Brit Award nominated English musician, singer, songwriter, actress, producer and author. In a career spanning more than 40 years, Willcox has had 8 Top 40 singles, released over 20 albums, written two books, appeared in over 40 stage plays and 10 feature films, and voiced and presented numerous television shows.
As a singer, actress and TV presenter, Toyah is in a world beating class of her own, she is, in the words of ABBA, a super trouper. If you dont belive me, sit down with a coffee and have a run through her history on her Wikipedia page! Extraordinary.
Toyah: The Band: The last time I was lucky to photograph Toyah was when she visited Worthing to warm up her album 'Posh Pop'. This LP put Toyah back in the Top 30 for the first time since 1984. The time before that was Brighton in November 2019 when she played chalk to promote her 2019 charting album 'In The Court Of The Crimson Queen'. A new line up of new faces apart from Mike Nichols (bass). Two guitars, drums, bass and keys and Toyah, gave us a full on auditory explosion of sound. This is a classy five-piece band, working with Toyah they helped make the evening snappy and definitely uplifting.
• Continue reading at Scene Sussex.