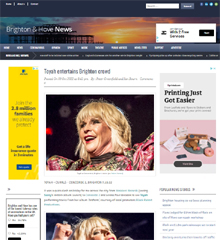 TOYAH + CURRLS – CONCORDE 2, BRIGHTON 7.10.22
Toyah Entertains Brighton Crowd
It was a quick dash on Friday for me across the city from Resident Records (seeing Sorry's instore album launch) to Concorde 2 and across four decades to see Toyah performing tracks from her album 'Anthem', courtesy of local promoters Black Rabbit Productions.
'Anthem' released in May 1981 was Toyah's biggest selling album going gold shifting more than 100,000 copies in the UK and peaked in the charts at number 2. The iconic album cover showing Toyah as a fairy with wings was used as the backdrop to the stage set.
There was a good-sized crowd gathered for Toyah and her band to come on stage at 8.30pm. As is common with a lot of bands with such a key front person, the musicians came on stage first and the star of the show Toyah, then made her entrance.
For reference, Toyah's trademark flaming red/orange hair of the album cover picture has been toned down to blond these days. But that was the only thing that she's appeared to have toned down. There was a lively start to the 19-song set with two of her biggest hits 'Thunder In The Mountains' and 'Good Morning Universe'. This set the tempo for the rest of the evening.
• Continue reading at Brighton and Hove News.