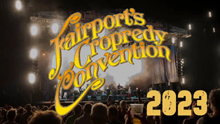 Fairport's Cropredy Convention 2023: Live Review
Fairport's Cropredy Convention adds another year to its long list of great bills and festivals. It really is a festival to cherish.
Toyah and Robert Fripp
It was back in 2015 that Toyah Wilcox last had the Cropredy stage to herself. She wowed us then, and -by heck – she certainly delivered the goods this year! Armed with a top-notch band, led, of course by husband Robert Fripp, figurehead of the mighty King Crimson, she left us breathless – and glamour-struck as she blasted through set of favourites from the couple's hilarious – some might even say 'notorious' Sunday Lunch podcast series. The band was on top form, and Toyah had the whole field captivated as she rocked, twirled, enchanted and, of course, sang her way through a set that was thoroughly familiar and contained something for absolutely everyone.
• Continue reading at At The Barrier.