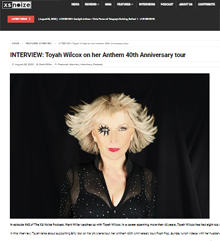 Interview: Toyah Willcox on her Anthem 40th Anniversary tour
In episode #95 of The XS Noize Podcast, Mark Millar catches up with Toyah Willcox. In a career spanning more than 40 years, Toyah Willcox has had eight top 40 singles, released over 20 albums, written two books, appeared in over 40 stage plays and ten feature films, and voiced and presented numerous television shows.
In this interview, Toyah talks about supporting Billy Idol on his UK Arena tour, her Anthem 40th Anniversary tour, Posh Pop, Sunday lunch videos with her husband Robert Fripp, acting and lots more.
• Continue reading at XS Noize.