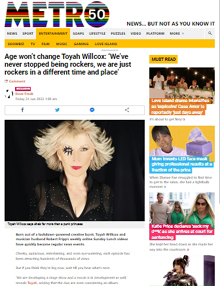 Age won't change Toyah Willcox: 'We've never stopped being rockers, we are just rockers in a different time and place'
Toyah Willcox says she's far more than a punk princess
Born out of a lockdown-powered creative burst, Toyah Willcox and musician husband Robert Fripp's weekly online Sunday Lunch videos have quickly become regular news events.
Cheeky, audacious, entertaining, and even eye-watering, each episode has been attracting hundreds of thousands of views.
But if you think they're big now, wait till you hear what's next.
'We are developing a stage show and a movie is in development as well,' reveals Toyah, adding that the duo are even considering an album.
'But once you get into a studio situation you've got to rethink everything, and how people will experience that in an album form.
'It's not a no, but it takes an awful lot of consideration.'
• Continue reading at the Metro.