Metro: Ghost Hunter Choked By Spirit Living In Toyah's Attic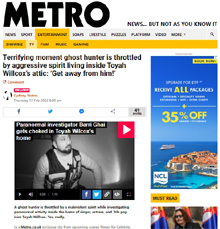 Terrifying moment ghost hunter is throttled by aggressive spirit living inside Toyah Willcox's attic: 'Get away from him!'
A ghost hunter is throttled by a malevolent spirit while investigating paranormal activity inside the home of singer, actress, and '80s pop icon Toyah Willcox. Yes, really.
In a Metro.co.uk exclusive clip from upcoming scenes filmed for Celebrity Help! My House Is Haunted, paranormal expert Barri Ghai is left coughing and gasping for air as he's confronted by an aggressive ghost called George.
It all kicks off when Toyah leaves Barri and his colleagues Ian and Jayne for the night as their investigation starts shaping up to be one of the team's most active cases yet.
Rigging the house with fixed cameras, the group attempted to reach out to George, who swears at them. After an unnerving start, they go upstairs to the attic when they hear a violent growl on Barri's recording device. Suddenly, the audio begins picking up snippets of the spirit mentioning Barri by name and telling the trio to 'get down.'
• Continue reading at the Metro. Celebrity Help! My House Is Haunted is streaming from tomorrow on Discovery +