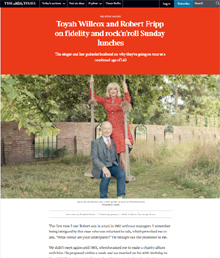 A new interview, and photos, with Toyah & Robert published by The Times.
Toyah Willcox and Robert Fripp on fidelity and rock'n'roll Sunday lunches
The singer and her guitarist husband on why they're going on tour at a combined age of 140
The first time I met Robert was in a taxi in 1983 with our managers. I remember being intrigued by this man who was reluctant to talk, which provoked me to ask, "What colour are your underpants?" He brought out the prankster in me.
We didn't meet again until 1985, when he asked me to make a charity album with him. He proposed within a week and we married on his 40th birthday in May 1986. Robert is an intelligent, deep thinker who's disciplined in his music, his health routine and how he lives. All of that was perfection for me.
• Continue reading at The Times. (subscription required)