Blitzed: An Interview with Toyah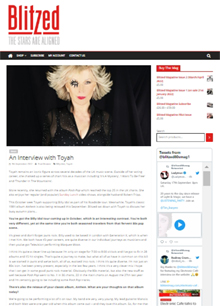 Toyah remains an iconic figure across several decades of the UK music scene. Outside of her acting career, she chalked up a series of chart hits as a musician including 'It's A Mystery', 'I Want To Be Free' and 'Thunder In The Mountains'.
More recently, she returned with the album Posh Pop which reached the top 25 in the UK charts. She also enjoys her regular (and popular) Sunday Lunch video shows, alongside husband Robert Fripp.
This October sees Toyah supporting Billy Idol as part of his Roadside tour. Meanwhile, Toyah's classic 1981 album Anthem is also being reissued this September. Blitzed sat down with Toyah to discuss her busy autumn plans…
You've got the Billy Idol tour coming up in October, which is an interesting contrast. You're both very different, yet at the same time you're both seasoned travelers from that fervent 80s pop scene.
It's great and don't forget punk rock. Billy used to be based in London with Generation X, which is when I met him. We both have 45-year careers, are quite diverse in our individual journeys as musicians and then you've got Television performing Marquee Moon.
I think it's quite a clever line up because I'm only on stage for 7:30 to 8:00 o'clock and I've got to fit in 28 albums and 15 hit singles. That's quite a journey to make, but what all of us have in common on this bill is we started in punk and we've both, all of us, evolved into rock. I think it's quite diverse. I'm not just an 80s icon. I've been pretty present, especially in the last few years. I think it's a very clever mix I hope that I can get in some good punk rock material. Obviously the 80s material, but also the new stuff as well because Posh Pop went to No. 1 in 36 charts, 22 in the main charts on August the 27th last year and I'm certainly going to be including some Posh Pop tracks.
• Continue reading at Blitzed.