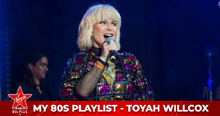 My 80s Playlist: Toyah Willcox picks her favourite 80s tunes from Bowie to Kate Bush
80s icon Toyah Willcox made her name not just on the charts but on the screen too.
She first kicked things off in the band Toyah until 1983, before embarking on an impressive solo career, with top 10 singles including I Want To Be Free and Thunder in the Mountains. Toyah also found fame on the big screen as Monkey in 1979's Quadrophenia, and worked alongside Katharine Hepburn in The Corn is Green.
While at the Top of the Tower at Virgin Radio 80s Plus Toyah sat down with Steve Denyer for My 80s Playlist, and shared the top 80s tunes that made the era.
• Continue reading at Virgin Radio.