The Guardian: Toyah Willcox and Robert Fripp Look Back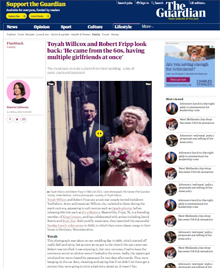 Toyah Willcox and Robert Fripp look back: 'He came from the 60s, having multiple girlfriends at once'
The musicians recreate a photo from their wedding – a day of panic, pasta and paparazzi
Toyah Willcox and Robert Fripp are a rock star couple turned lockdown YouTubers. Actor and musician Willcox, 64, rocketed to fame during the punk rock era, appearing in cult movies such as Quadrophenia, before releasing 80s hits such as It's a Mystery.
Meanwhile, Fripp, 76, is a founding member of King Crimson, and has collaborated with artists including David Bowie and Brian Eno.
Both prolific musicians, they launched the successful Sunday Lunch video series in 2020, in which they cover classic songs in their home in Pershore, Worcestershire.
Toyah: This photograph was taken on our wedding day in 1986, which started off really dull and rainy, but as soon as we got to the church the sun came out. Robert was terrified. I was enjoying it, but very nervous: I had to keep the ceremony secret so photos weren't leaked to the press. Sadly, the papers got wind and we were chased by paparazzi for two days afterwards. They were banging on the car door, shouting and saying that if we didn't let them get a picture they were going to print a bad story about us. It wasn't fun.
• Continue reading at The Guardian.