Daily Record: Toyah On Refusing To Be 'Controlled' By Age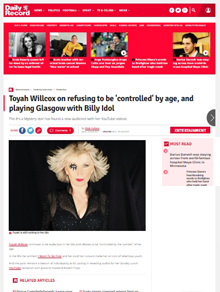 Toyah Willcox on refusing to be 'controlled' by age, and playing Glasgow with Billy Idol
The It's a Mystery star has found a new audience with her YouTube videos.
Toyah Willcox continues to be audacious in her 60s and refuses to be "controlled by the number" of her age.
In the 80s her anthem I Want To Be Free and her vivid hair colours made her an icon of rebellious youth.
And the punk remains a beacon of individuality at 64, posing in revealing outfits for her Sunday Lunch YouTube sensation with guitarist husband Robert Fripp.
The videos have had 100million views since they started doing them during lockdown in 2020.
Toyah said: "I'm not being controlled by the number of my age. I have a great passion for what I do and I'm continuing it. Age should only be a number.
"I've been rocking in this world for 45 years as a career. You don't just suddenly stop or stop that connection with music."
• Continue reading at the Daily Record.