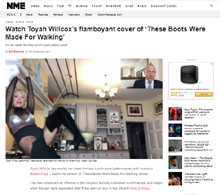 Watch Toyah Willcox's flamboyant cover of 'These Boots Were Made For Walking'
It's her latest Sunday Lunch Love Letters cover
Toyah Willcox has shared her latest Sunday Lunch Love Letters series with husband Robert Fripp – watch the version of 'These Boots Were Made For Walking' below.
The new videos are an offshoot of the couple's Sunday Lockdown Lunch series, and began when the pair were separated after Fripp went on tour in the US with King Crimson.
• Continue reading at the NME.