NME: Toyah Willcox Shares Cover Of 'Light My Fire'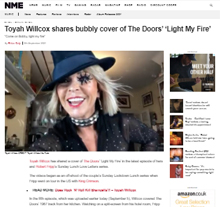 Toyah Willcox shares bubbly cover of The Doors' 'Light My Fire'
"Come on Bobby, light my fire"
Toyah Willcox has shared a cover of The Doors' 'Light My Fire' in the latest episode of hers and Robert Fripp's Sunday Lunch Love Letters series.
The videos began as an off-shoot of the couple's Sunday Lockdown Lunch series when Fripp went on tour in the US with King Crimson.
In the fifth episode, which was uploaded earlier today (September 5), Willcox covered The Doors' 1967 track from her kitchen. Watching on a split-screen from his hotel room, Fripp introduced the video by saying: "My wife has sent me a viddy! Let's see what little lovie has."
• Continue reading at the NME. Watch the Latest Sunday Lunch/Love Letters at You Tube.