Watch Toya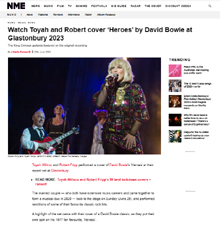 h and Robert cover 'Heroes' by David Bowie at Glastonbury 2023
The King Crimson guitarist featured on the original recording
Toyah Willcox and Robert Fripp performed a cover of David Bowie's 'Heroes' at their recent set at Glastonbury.
The married couple — who both have extensive music careers and came together to form a musical duo in 2020 — took to the stage on Sunday (June 25), and performed renditions of some of their favourite classic rock hits.
A highlight of the set came with their cover of a David Bowie classic, as they put their own spin on his 1977 fan favourite, 'Heroes'. For the performance, Willcox took the microphone and handled the vocals, while Fripp remained seated and played the guitar through the track.
• Continue reading at the NME. See also :  Enter Sandman … Heroes … It's A Mystery … Are You Gonna Go My Way … School's Out.