NME: Toyah & Robert Talk Sunday Lunch at Glastonbury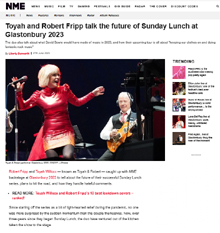 Toyah and Robert Fripp talk the future of Sunday Lunch at Glastonbury 2023
The duo also talk about what David Bowie would have made of music in 2023, and how their upcoming tour is all about "keeping our clothes on and doing fantastic rock music"
Robert Fripp and Toyah Willcox — known as Toyah & Robert — caught up with NME backstage at Glastonbury 2023 to tell about the future of their successful Sunday Lunch series, plans to hit the road, and how they handle hateful comments.
Since starting off the series as a bit of light-hearted relief during the pandemic, no one was more surprised by the sudden momentum than the couple themselves. Now, over three-years since they began Sunday Lunch, the duo have ventured out of the kitchen taken the show to the stage.
The latest of which included a debut slot at Glastonbury 2023 this weekend, where they delivered their brand of classic rock covers on the Acoustic Stage. Shortly before they took to the stage, they had a quick catch-up with NME…
NME: Welcome to Glastonbury! Let's start by taking a look back to when you first started Sunday Lunch. Did the response catch you off guard? It seemed to get a lot of momentum very quickly…
Toyah Willcox: "It did surprise us. We were going for about eight months and it was growing and growing and growing. It started with one very simple post: 28 seconds of us jiving. Within five minutes it got about 100,000 replies from across the world. At that point, we realised that we'd posted something that basically cheered people up who were alone in lockdown."
"NME almost championed us in a way, and what we loved about NME was they were linking the songs we were covering with the actual artists, and it had a phenomenal effect. Judas Priest wrote to us and said, 'Thank you so much' and we'd given them the best tour publicity they could have had when we covered 'Breaking The Law'. They loved it!
• Continue reading at NME. (Image © Toyah Willcox)