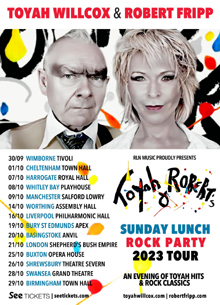 Toyah and Robert Fripp bring us fun, hilarity and music every Sunday for more than two years now from their kitchen with covers of pop & rock classics.
It's not that they weren't already famous before the Covid-19 lockdown started.
Toyah and Fripp have both remarkable careers on their résume and they're definitely not done yet, as Toyah proved crystal clear with her 2021 Posh Pop album and Robert still touring with King Crimson, his band of a lifetime.
And regularly they leave their beloved kitchen to play live together, as happened last May at the Stone Valley South Festival in Great Amwell, England where they played, as part of their set, their vivid cover of David Bowie's 1977 mega-hit Heroes, on which Fripp played guitar back then.
Toyah and Robert recently celebrated their 37th anniversary together, cause they're lovers, and that is a fact, yes they're lovers, and that is that.
• Continue reading at Turn Up The Volume. Browse all of Toyah & Robert's Rock Party tour dates at toyahwillcox.com.