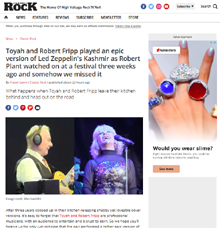 Toyah and Robert Fripp played an epic version of Led Zeppelin's Kashmir as Robert Plant watched on at a festival three weeks ago and somehow we missed it
What happens when Toyah and Robert Fripp leave their kitchen behind and head out on the road
After three years cooped up in their kitchen releasing shabby yet loveable cover versions, it's easy to forget that Toyah and Robert Fripp are professional musicians, with an audience to entertain and a crust to earn. So we hope you'll forgive us for only just noticing that the pair performed a rather epic version of Led Zeppelin's classic Kashmir during their set at Fairport Convention's annual Cropredy festival earlier this month.
It was a set that relied heavily on the songs that have turned the King Crimson man and his post-punk bride into viral celebrities, with just a trio of Toyah originals – Thunder In The Mountains, It's A Mystery and I Want To Be Free – finding their way onto the setlist.
• Continue reading at Classic Rock/Louder. Toyah & Robert's Rock Party Tour – inspired by Sunday Lunch – begins at the end of this month. All the dates and ticket links available at toyahwillcox.com.