Metal Sucks: Toyah Willcox Covers "These Boots"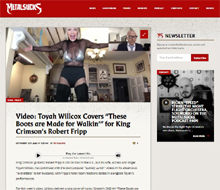 Toyah Willcox Covers "These Boots are Made for Walkin'" for King Crimson's Robert Fripp
King Crimson guitarist Robert Fripp is still on tour in the U.S., but his wife, actress and singer Toyah Willcox, has continued with the duo's popular "Sunday Lunch" videos in his absence as "love letters" to her husband, with Fripp's hotel room reactions edited in alongside Toyah's performances.
For this week's video, Willcox delivers a solo cover of Nancy Sinatra's 1966 hit "These Boots are Made for Walkin'." "The kitchen's waiting! Sunday Lunch wants ya back!" Toyah taunts, before adding, "These puppies want you home!" while aiming the camera at her chest as Fripp lets out a spirited laugh.
• Continue reading at Metal Sucks.