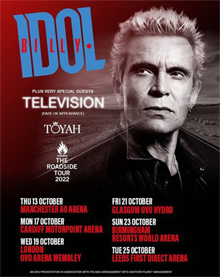 Music icon Toyah Willcox to join rockstar Billy Idol on six-date UK tour this Autumn
It's A Mystery and Thunder In The Mountains singer Toyah Willcox will join special guests Television for White Wedding and Rebel Yell star Billy Idol's Roadside UK Tour
Thunder In the Mountains singer Toyah Willcox will join punk icon Billy Idol on his Roadside UK Tour this Autumn.
Actress and singer Toyah will open for Billy Idol on his six-date tour, which takes in cities including Manchester, Cardiff, London, Glasgow, Birmingham and Leeds from October 13-25, 2022.
That's not all, as Toyah Willcox and Billy Idol will also be joined by special guests Television, who will be performing their album debut Marquee Moon in full.
• Continue reading at the Daily Star. NB. Billy Idol shared posts on Instagram and Twitter yesterday on Toyah & Robert's Sunday Lunch cover of Rebel Yell.