Daily Star: 80s Pop Legend Toyah Terrorised By Ghost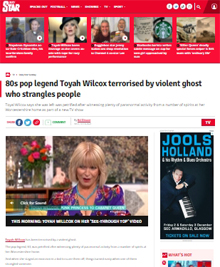 80s pop legend Toyah Willcox terrorised by violent ghost who strangles people
Toyah Willcox says she was left was petrified after witnessing plenty of paranormal activity from a number of spirits at her Worcestershire home as part of a new TV show
Toyah Willcox has been terrorised by a violent ghost.
The pop legend, 63 was petrified after witnessing plenty of paranormal activity from a number of spirits in her Worcestershire home.
And when she staged an exorcism in a bid to scare them off, things turned nasty when one of them strangled someone.
evealing her torment, Toyah said: "I've always experienced haunted properties because I've constantly lived in very old places. This house is absolutely extraordinary. It is a very active house."
"There are two obvious ghosts that are sisters and they've always been around. The evidence is mainly a whiff of cigarette smoke and perfume."
• Continue reading at the Daily Star. Celebrity Help! My House Is Haunted is streaming now on Discovery +