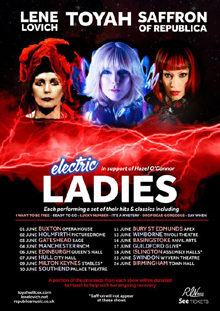 Toyah, Lene Lovich and Saffron of Republica help Hazel O'Connor
The Electric Ladies tour by Toyah, Lene Lovich and Saffron of Republica in support of Hazel O'Connor is coming to The Anvil in Basingstoke on June 16 at 7.45pm.
Hazel is still recovering from suffering a bleed on the brain and is unable to join the tour, but she will be very much with the others in spirit. Her singing and acting career took off in 1980 when she played Kate in the film Breaking Glass while also writing and performing its soundtrack album. This produced hits including Will You, the tale of a woman who nervously edges towards spending the night with her new man for the first time.
Toyah Willcox is one of the most recognisable faces in UK pop culture, clocking up an impressive ten hit singles and eight hit albums, including a gold-selling anthem, and her recent hit album, Posh Pop. Her biggest hits include It's A Mystery, Thunder in the Mountains and I Want To Be Free.
She will be joined on this tour by new wave pioneer Lene Lovich, whose hits in the late 1970s included Lucky Number and I Think We're Alone Now, and 1990s indie rock chick Saffron from Republica, whose hits included Ready To Go.
Performing alongside their full band, each artist will perform their own set alongside some collaborations. Some of Hazel's songs will also be performed, and a portion of the income from each show will go directly towards helping her with her ongoing recovery. For tickets, priced £32, call 01256 844244 or visit anvilarts.org.uk
• Continue reading at the Bordon Herald.