Electric Ladies Of The 80s: Tour Rescheduled to May/June 2021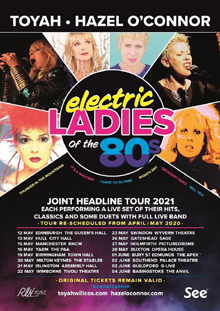 Toyah and Hazel O'Connor's Electric Ladies Of The 80s joint-headlining UK tour has been rescheduled to May and June 2021. This is of course because of the ongoing pandemic.
Ticketholders are being asked not to contact venues, or SEE Tickets at the moment as they will make contact with ticket holders in due course to explain the way forward.
All tickets remain valid for the new dates.
Refunds are available if needed, but we ask if possible for the sake of the venues and their long term financial security, you hold on to tickets and not request a refund if possible.
Post-punk and New Wave artists Toyah and Hazel O'Connor join forces to bring you their exciting new tour, Electric Ladies of the 80s. Performing alongside their full electric band, each artist will perform their own set alongside some duets and surprises.
• Further info at toyahwillcox.com. Click below for ticket booking links (though a number of the dates are sold out).