Toyah on the Radio: BBCR4 Ramblings – Joyful Highlights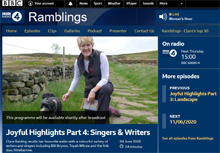 Clare Balding is currently recalling her favourite walks from her long-running BBC Radio 4 series Ramblings. Episode Four of the retrospective collection airs next Thursday, 4th June and includes Toyah, who guested on Ramblings back in February 2013.
Ramblings With Clare Balding: BBC Radio 4
Thursday 4th June: 3pm/Saturday 6th June: 6.07am
Joyful Highlights Part 4: Singers & Writers. Clare Balding recalls her favourite walks with a colourful variety of writers and singers including Bill Bryson, Toyah Willcox, folk duo Ninebarrow, and the choral group Werca's Folk.
Clare has been walking on air since 1999, and for this lockdown series of highlights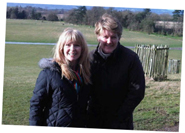 has been digging into the archives to retrieve some of her most memorable moments: Today she gets dressed with Bill Bryson, takes a lift across a small puddle with Toyah, discovers that Dorothy Wordsworth avoided marriage so she could continue walking, and hears from author Emma Mitchell about exactly why our mood is lifted when we spend time in nature.
Marking 20 years as presenter of the programme, Clare Balding digs into archives of Ramblings to share the best moments from her favourite walks. Producer: Karen Gregor.
• Listen to Ramblings – Joyful Highlights online at the BBC Radio 4 website. Click below to browse our Ramblings News Archive. (Photo © Toyah Willcox)